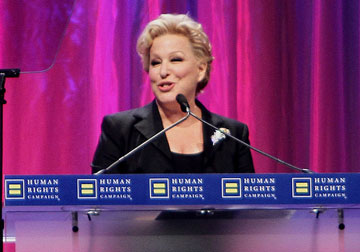 Pekan lalu,
Lady GaGa
tampil di Australia dan sempat membuat 'geger' karena naik ke atas panggung di atas kursi roda. Banyak yang menganggap ulah ini menyinggung perasaan mereka yang menderita cacat kaki sementara yang lain menyebut
Lady GaGa
sebagai meniru
Kurt Cobain
yang memang sempat membuat ulah sama. Kini muncul tuduhan lain.
Lady GaGa
disebut peniru aksi panggung
Bette Midler
.
Tak lama setelah beredarnya video yang memperlihatkan aksi
Lady GaGa
di atas kursi roda
Bette Midler
langsung membuat 'klarifikasi' kalau ia dulu juga pernah membuat atraksi yang sama di tahun 1980-an dan aksi
Lady GaGa
kali ini bukanlah sesuatu yang original. Untungnya pemilik album
BORN THIS WAY
ini tak membalasnya dengan emosi.
"I had no idea kalau dia sempat melakukan hal yang sama dan saya sendiri adalah fans berat
Bette Midler
," jawab pemilik nama lengkap
Stefani Joanne Angelina Germanotta
ini. Tak cuma memberikan klarifikasi,
Lady GaGa
lantas dengan tegas menyatakan kalau aksi panggung itu ia nyatakan sebagai tribute to
Bette Midler
.
"Awalnya itu bukanlah tribute buat
Bette Midler
... karena saya tidak tahu kalau dia pernah melakukannya tapi sekarang saya tahu and I think it's great," jelas
Lady GaGa
seperti dikutip dari Contact Music.