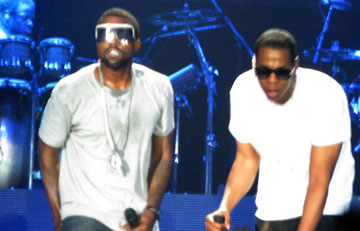 Jay-Z dan Kanye West akhirnya mengkomfirmasi album kolabolarsi mereka.

Mengutip berita dari Digitalspy, Jay-Z dan Kanye West mengkonfirmasikan tanggal rilis album kolaborasi mendatang mereka.

Pasangan hip-hop ini akan merilis proyek bersama mereka yang berjudul Watch The Throne versi digital pada 1 Agustus dan berbentuk fisik pada 5 Agustus.

Beberapa musisi yang juga mengisi suara dalam album ini antara lain Mike Dean, Swizz Beatz, No I.D. and The Neptunes, while Beyonc, Otis Redding dan Mr Hudson.
Jay-Z dan Kanye West telah menghabiskan 12 bulan terakhir untuk bekerjasama pada proyek rekaman pop-up di Hotel Mercer, di New York. [mor]